Jiefangbei Pedestrian Street
Jiefangbei Pedestrian Street was first established in 1997 and it was soon expanded to cover 43,000 square yards of surface. The street got its name after the People's Liberation Monument located in its center. Today, the Jiefangbei Pedestrian Street is a real shopping and eating paradise for tourists.
You can find numerous exclusive retail stores, as well as shopping centers here. You can purchase for luxury international brands or look for bargains in various department stores. Once you get tired, try some of the local noodle snacks or specialties, such as rabbit heads. Thanks to a bunch of premium hotels and other accommodation options, you can easily find a place to spend the night in Jiefangbei CBD.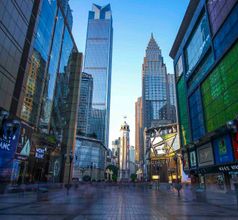 Other Attractions In Chongqing