Xixi National Wetland Park
Based within city limits, the National Wetland Park of Xixi is only 5 kms apart from Xi Hu (West) Lake in the province of Zhejiang. It is counted amongst the 3 glorious Xi's of Hangzhou i.e. Xi Hu, Xiling (Seal Arts Club) and Xixi. The wetland is an anomaly since these are only found away from civilization or in rural areas. However, this maybe the only one to have taken home in a major city, providing the residents with a quaint getaway when urban life gets too overwhelming.
The standard admission price is set at RMB80. Kids measuring 3.9 – 4.9 feet are allowed 50% off and kids under 3.9 feet are allowed free of charge. The motor boat costs RMB60 / hour while the manual boat is RMB100 / hour and has a capacity for 6 people on board. Battery car is available on site for people who want to go the land route. The park opens around 08:00 and shuts down by 18:00 ish. Park signage leaves much to be desired for tourists (specially foreigners). It is most crowded during festivals and holidays.
Abundance of swamps and marshes and gnarled ancient trees make for gorgeous scenery. These are best taken in with a boat ride on the traditional ferries. There are 3 water paths or causeways named 'Fu' meaning fortune, 'Lu' meaning prosperity and 'Shou' meaning longevity (happens to be the longest too!) paths in the water. Worth mentioning here is the Qiuxue hut, which is on an island, smack dab middle of Xixi. From there, you get an amazing view of the surroundings, so it is a definite must-see!
The natural scenery is not all there is in Xixi park. As the swamp has been around for almost 15 centuries, it has seen construction of various pagodas and other buildings, that stand proud to this day. They are worth giving a visit, specially the Yanshui fish vendor. They make the freshest fish from the catch of the day and you can choose from a sizeable variety, have it made in front of you and then enjoy your meal and some tea with family and friends near the waterways. Perfect to unwind and re-energize.
Xixi wetlands support a lot many celebrations throughout the year. The Gantang festival happens at the end of the year. Volunteers come together to drain and clean the fishponds to maintain their ecosystem. Afterwards, a huge feast of fish is enjoyed among the locals before the Chinese New Year arrives. The Huoshi or Persimmon festival takes place in autumn. You can taste persimmons fresh off the trees as you learn more about their backstory.
The Dragon Boat festival, which has been kept alive from ancient times, is held in June. It is an international event that not only features the races but also has local specialties (don't miss out on the much talked of 5 yellow foods), theater performances and competitive games. Huge crowds gather to cheer on the competitors, so buy tickets in advance.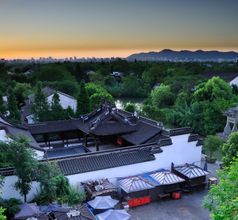 Other Attractions In Hangzhou