Lu Xun Park (Hongkou Park)
With a foundation laid in 1896 for a shooting range, before being redesigned as a park by the British, the Hongkou Park was open to all except Chinese citizens in 1909. This restriction was later lifted in 1924 and eventually the park was named to Lu Xun Park after the acclaimed Chinese author who had residence near the area.
The 39-acre green space is located in Hongkou district, right behind the Hongkou Football Stadium. Metro lines 3 and 8 have stops at the Hongkou Stadium subway station from where it is a few minutes on foot to the park. There is a minimum admission fee of RMB20. It is open by 06:00 and closes at 18:00 in winters and by 21:00 in summers. Lu Xun park can get really crowded on weekends, specially during spring when the cherry blossoms are in bloom.
Lu Xun park houses the memorial of the leftist intellectual, author, poet and literary critic Zhou Shuren, who worked under the pen name Lu Xun. He played a vital part in development of modern literature in China and is considered the 'soul of the nation'. Accordingly, there is statue of the great poet, a memorial hall and a tomb with the inscription written in Mao Zedong's calligraphy. His works and life history are laid out within the museum to inspire generations to come.
Another historic figure commemorated in the park is Yun Bong-gil, a Korean nationalist who attacked a Japanese event with a bomb during the time of Japanese occupation in Shanghai and injured and killed high-profile officials in attendance. He was later taken to Japan and executed but his defiance was remembered and honored by building a memorial hall with co-operation from both the South Korean and Chinese government and a stone tablet was erected with description in languages of both countries regarding the 1932 bombing episode.
But the park has much more to offer visitors. It is well maintained with good facilities. There is a sizeable lake in the park which provides relief to tired eyes. Plum blossom, cherry blossom and willow trees are planted sparingly over the place. There is even a tea garden on site. Boats are available for renting and people can take rides over the calm waters, enjoying the lush landscape around. There is a children's park where retired citizens bring their grandkids for a fun evening outing and it is anybody's guess who is the more excited one! Couples, families, old people and young ones all come to the park for a pleasant time; whether to fly kites, or jog around the perimeter, get in some cycling exercise or enjoy snacks with loved ones.
Though all four seasons bring their own charms, spring is chiefly attractive for the vivid colors of the blossom trees and the flowers around the park. Everything becomes more high definition and crowds' throng to see the blossoms; specially the cherry blossoms which are a particular Japanese specie and were brought in specially from Tokyo's Ueno Park.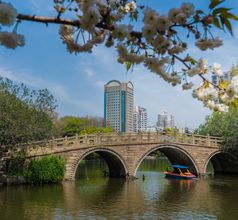 Other Attractions In Shanghai