Shanghai Museum
Museums are always filled with interesting facts and enriched with cultural items of a particular time or place that fascinate many people from around the globe, but the most eye-catching collection of objects are, in my opinion, found in the ancient Chinese Museums. One of them being the Shanghai Museum.
The Museum has a square shaped base and a rounded top that indicates an impression of the Chinese that square is earth and round is sky and is very cavernous as it holds in the galleries, various possessions of calligraphic work, beautiful jades, bronzed treasures, paintings, ancient coins, minority and foreign artistic works in so many colors, ceramics with intricate designs, furniture of fancy appearance like wooden tables, ornamental boxes, screen and chairs, etc. Seal and sculpture art which approximately makes about 120,000 pieces while a few things important to their nation are displayed as well.
The almost 1,800 pieces of the numismatic collection have their own significance because these coins are obtained from the Silk road and were donated from very long ago.
Some useful tips: take as many pictures as you like, as in some of the galleries it is allowed but turn off the flash, so no harm is caused to the valued relics. No items of stationary are allowed inside except pencils. Cloak room holds other valuables like large luggage or clothes safe but for this matter a passport is required. Best to carry less things on this trip. No entry can be made without a passport. The process of security checking can be a bit longer so there can be a long queue, just remember to bring your water bottles with you. Carriages of the babies and wheelchairs are available and free with a deposit of RMB 300. Nothing to worry about, as guest houses, parking lots, restaurants, tea house are all here. Provided services include an audio guide in different languages. For adults it is RMB 20 and for kids it is RMB 10 per person with a deposit of RMB 300 in Chinese audio. For other languages it is RMB 40 with deposit of RMB 400 or $50 or just a passport.
The museum may be visited any time of the year. It opens at 09:00 in the morning while closing time is 17:00 but you will need at least 2-3 hours to capture all the details properly and an important note is that you cannot enter after 16:00. Museum is closed on Mondays and weekday visits are the best with the museum all to yourself (mostly).
You can get to Shanghai Museum by bus or by metro. The subway line 1, 2 and 8 lead to People's Square Station with the site 5 minutes to the south as do many buses. Still, going by car is less time taking.
After learning and absorbing a lot about the fine historic relics in the Shanghai Museum, you can go to the Bund to take a fast cruise to feel refreshed by its fascinating views.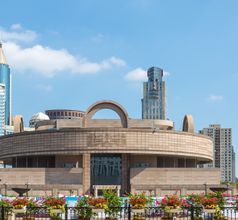 Other Attractions In Shanghai
Home > Shanghai > Shanghai > Shanghai Museum